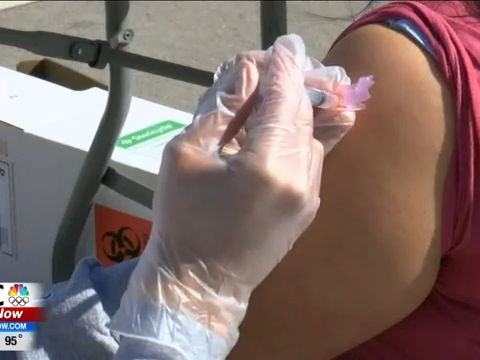 KENNEWICK, WA – Benton Franklin Health District and other health leaders gave a press conference today with an update on COVID-19 in our area. Overflowing emergency rooms, ICUs at max capacity, nurse shortage, burnt-out healthcare workers, and sicker young adults are the state of our area. Tri-Cities remains the area with the highest transmission of COVID in the entire West Coast.
Doctors in attendance were Dr. John Matheson from Kadlec and Dr. Amy Person from Benton Franklin Health District along with Pasco Mayor Saul Martinez and Reza Kaleel, Chief Executive of Kadlec.
"We have had over half a million deaths in the nation due to this disease. And we have vaccines that have been proven to be effective and safe," says Dr. John Matheson, Kadlec's Emergency Department Director.
Dr. Matheson went on to discuss the numerous studies proving the effectiveness of the vaccine and wanted to also address concerns many people in the local community had that may keep them from getting the vaccine.
"We hear people all the time say 'this vaccine was created too fast.' But I can assure you it wasn't. Every step that needs to go in creating and testing a vaccine happened and there were no corners cut. We have had the technology necessary to create this vaccine for years to be prepared for if we need to create an emergency vaccine like this." said Dr. Matheson.
Additionally, some people may be concerned that while the FDA has approved the vaccines for emergency use, some are not comfortable that they have not been officially approved.
"That doesn't mean that they are not safe. There are all of these bureaucratic obstacles that a vaccine has to go through to get FDA-approved. In this case, we were in a global pandemic so unique situations like this allow for a vaccine to safely be approved at a faster speed for emergency uses." said Dr. Matheson. "The vaccine needed to be used for 6 months for it to have enough data for the FDA to see that it was working effectively, and now we do have that data because it's been working well for, more than 6 months as we expected."
Dr. Amy Person also wanted to assure women that they do not need to fear that the vaccine could affect their fertility.
"The American College of Obstetricians and Gynecologists have also recommended women who are pregnant or considering pregnancy and if they are breastfeeding should also get the vaccine and that it's safe," said Dr. Person.
There's a lot of misinformation, especially if you're just getting your information via social media. It's important to get it from well-research doctors, health leaders, and scientists." said Dr. Matheson.
In addition to stressing the importance of getting vaccinated, they also discussed masking up again.
"Masks are proven effective because they keep water droplets from being transmitted like when you talk, sneeze, or sing. This helps reduce the spread of COVID." said Dr. Person.
Dr. Person also stressed the importance of younger people getting vaccinated, because COVID-19 does not discriminate against age.
"We are seeing increasing cases in those ages 18-34. And also those 12-17," said Dr. Person. "With school coming back, and schools in the Southeastern part of the U.S. not having kids wear masks, many more kids are getting COVID and pediatric ICUs are not reaching max capacity," said Dr. Person.
"We are seeing once healthy and young people get extremely sick and taken into the ICU," said Dr. Matheson.
With the highly transmissible Delta variant, if things continue to get worse, we could be going backward.
To see the full BFHD press briefing, click here.
Source: NBC Right Now