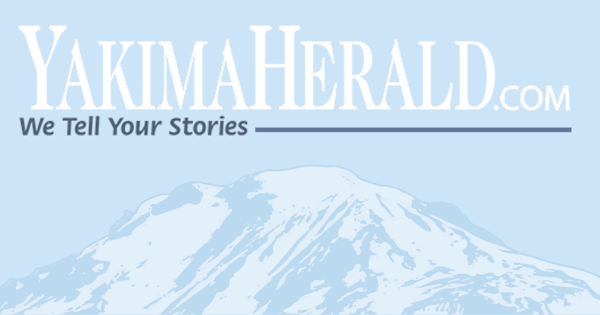 COVID-19 is on the decline in the Tri-Cities, says Dr. Amy Person, health officer for Benton and Franklin counties.
It still is not too far below the peak seen in January — the height of the original omicron variant. But the number of people hospitalized for the disease remains much lower that it was during the winter.
"We are moving toward the phase where we are focused on protecting those at highest risk," Dr. Person said at this week's meeting of the Benton Franklin Health District board.
The decline is based on checks of genetic material of the virus in untreated municipal wastewater collected in the Tri-Cities.
Residents of the Tri-Cities area, particularly the elderly, continue to die from complications of COVID-19.
The Benton Franklin Health District reported three more recent deaths in its latest weekly COVID update.
Local public health officials are focusing on COVID protections in long-term care settings, including making sure that elderly residents and staff not only are vaccinated but also are up to date on their booster shots.
Washington state data shows that people who are not vaccinated against COVID-19 were 1.6 to 2 times more likely to be infected with the coronavirus in recent months than vaccinated residents, as the BA.5 omicron subvariant has become the dominant strain, Dr. Person said.
In addition, to focusing on long-term care centers, such as nursing homes, Tri-Cities area public health officials are making sure outbreaks are prevented or quickly managed at other group living settings such as prisons or jails and in farmworker housing.
CDC Tri-Cities COVID ratings
The U.S. Centers for Disease Control and Prevention also is reporting improvement for the Tri-Cities, as reflected in its COVID-19 community ratings for Benton and Franklin counties.
In its weekly update Thursday evening it gave both counties its best rating of "low."
The previous week, Franklin County had a COVID-19 community rating of "medium," with masks recommended in indoor public spaces for those at high risk of getting very sick from the virus.
The CDC makes no mask recommendation when levels are rated as "low."
CDC community COVID ratings have generally improved across the state of Washington, as reported in the federal agency's most recent update.
The number of counties rated as "high," increased from two to three and include Adams, Douglas and Chelan.
The number with a "medium" rating dropped from 15 to four. The four include Walla Walla and Columbia counties.
In Morrow County, Ore., just south of Benton County, Wash., the rating is "high," and adjacent Umatilla County, Ore., has a "medium" rating.
The CDC bases its COVID-19 community level ratings not only on new case rates, but also hospital beds used by patients with COVID and hospital admissions for people with the disease.
Tri-Cities COVID deaths
The three most recent deaths reported by the Benton Franklin Health District were all women.
They included a Franklin County woman in her 90s and Benton County women in their 80s and 70s.
They bring the recent Tri-Cities area deaths reported so far this month to 10. That compares with 12 deaths announced in July — two thirds of them in people in their 80s and 90s.
The Tri-Cities based health district reports COVID-19 deaths once a week.
COVID-19 deaths in the area since the start of the pandemic now total 715, including 498 Benton County residents and 217 Franklin County residents.
In the Tri-Cities, local public health officials verify that deaths are due to COVID complications by checking for a positive test result and that a coronavirus infection was named as a primary cause of death on the death certificate.
It can take several weeks for the health district to receive and reconcile death information due to the reporting processes of medical facilities and coroner offices and the process of issuing and releasing death certificates.
Tri-Cities COVID cases, hospitalizations
The most recently reported new case rate for Benton and Franklin counties combined is 179 new known cases per 100,000 people in a week.
That's down from as high as 293 early in August and about matches the case rate of one month ago. However, two months ago the case rate was down to 108.
The most recent data available for hospitals in Richland, Kennewick, Pasco and Prosser showed 26 patients admitted over a week for treatment of COVID-19. That was down from a report of 36 a week earlier, which was the most in more than three months.
In late May there were reports of fewer than 10 new COVID-19 patients hospitalized in Benton and Franklin counties over a week.
This story was originally published August 20, 2022 5:00 AM.
---
(c)2022 Tri-City Herald (Kennewick, Wash.)
Visit Tri-City Herald (Kennewick, Wash.) at www.tri-cityherald.com
Distributed by Tribune Content Agency, LLC.
Source: Google News