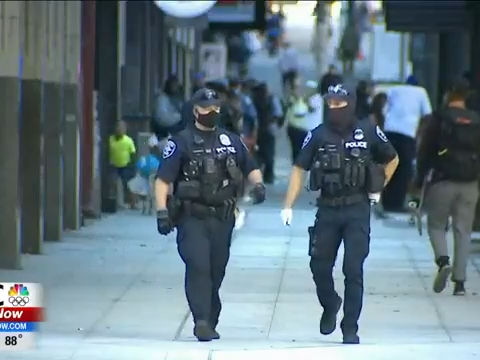 OLYMPIA, WA – House Bill 1054 and 1310 are now laws, effective for the past week. The Washington Association of Sheriffs and Police Chiefs posted a public statement sharing concerns about the new law and how they affect policing. However, the Attorney General, Bob Ferguson, responded today in a press release that says the new police reform bills do not keep police from responding to calls.
One of the statement's the Attorney General's press release published was that "nothing in the new law prevents officers from responding to community caretaking calls or calls for assistance with a mental health crisis. Police can show up to assist designated crisis responders and on other behavioral health calls."
One of the primary sponsors of the bill, Representative Roger Goodman front the 45th Legislative District clarified the concerns and questions.
"It's important to respond to calls, and the community expects that police respond. It's important for police to show up. When they get there, maybe the rules of engagement have changed a little bit." said Rep. Goodman.
The rules of engagement involve tactics of less-lethal force unless the police or community is in imminent danger.
"The shift is towards de-escalation rather than rushing in to use needless force." said Goodman.
The next criticism of the bills is limiting the use of weapons. However, that does not mean all weapons. While some equipment considered lethal is banned, that doesn't mean all weapons, just the more military-like ones like the .50 caliber. The 0.50 caliber weapon might be outlawed but weapons won't be met with sanctions if they are used non-lethally. For example, a bean bag gun. If the weapon complies, police can us it. If the rounds are considered lethal under the legislation, they can't be used, an example being the 37mm baton. The main purpose is to encourage non-lethal weapons or use projectiles that are not lethal.
Some police departments ceased using certain equipment, like the bean bag, that was not outlawed by the legislature. The Washington Fraternal Order of Policing also commented on community misinterpretation of the laws. "Our organization believes that the decision to remove from service less-lethal weapons greater than .50 caliber is an unwise overreaction to the legislation enacted in 2021 and ignores the overall context and legislative intent of lawmakers," said Marco Monteblanco, president of the Washington Fraternal Order of Police. "While we can understand and appreciate law enforcement's desire to bring additional attention, clarity and consideration to the laws adopted by the Legislature in 2021, we believe that elimination of these less-lethal weapons could have the opposite effect, compromising not only the safety of our officers, but also the public we serve. WAFOP worked closely with the Legislature on these bills, and believe we understand lawmakers' intent and the context in which the bills were passed," he said.
"The criminal justice training commission just came out with a statement saying that if law enforcement agency uses that weapon to shoot non-lethal rounds, like beanbags, that will not be considered wrongful conduct subject to sanctions." said Goodman.
Additionally, WAFOP explained the following:
"While ESBH 1054 includes language banning the use of firearms and ammunition of greater than .50 caliber, the Legislation goes on to discuss "military-grade" weapons and specifically mentions items such as rockets, missiles, and bayonets. Moreover, ESHB 1310 clearly states the Legislature's intent that peace officers will use the least amount of physical force necessary to overcome actual resistance and proper de-escalation under the circumstances. It specifically lists "conducted energy weapons, devices that deploy oleoresin capsicum, batons, and beanbag rounds" as being among the desired "less-lethal alternatives."
"Devices like bean bag or sponge rounds, although exceeding the .50 caliber metric, are clearly the type of less-lethal alternatives that lawmakers want to encourage. Without these tools, officers are left with only their firearms to respond in situations where de-escalation tactics are needed," said Monteblanco. "Given this background and reading both bills together to give each its fullest effect, we believe that removal of these devices from the field will compromise the safety of officers and public alike, and that their removal should not be pursued," he added.
WASPC also was concerned on the limits placed on police pursuits. However, these sanctions on police pursuits are for the purpose of keeping driving citizens safer.
"Pursuits through our streets and through our highways have caused a lot of harm, needlessly. Because the pursuit was at high speed and endangering the public." continued Goodman.
Under the new law, police pursuits are only limited if the police judge that the pursuit could cause more harm to other drivers. However, this does not apply to serious offenders. Police are instructed to still chase after people guilty of sexual crimes, kidnapping, and other violent crimes.
Furthermore, in investigations, juveniles must always have access to legal counsel before being questioned.
"Juveniles are particularly vulnerable because of their lack of knowledge, their developmental stage, and their need for assistance with interrogations." said Goodman.
These laws will also do more in depth background checks on police officers including mental health checks, making sure police have proper training, and assuring police are not affiliated with extremist groups.
In regard to prosecuting drug crimes, WASPC also shares qualms about drug crimes saying "There have been significant changes in enforcement and prosecution of drug crimes due to the state Supreme Court decision (Blake vs Washington State) and legislation enacted following the Court's decision."
Police are encouraged to arrest drug dealers but not necessarily those in possession of drugs. Representative Goodman says this is because having a drug condition is a mental health and substances abuse disorder concern.
"We want to use a more restorative justice approach, not punishing people for their disorder. We're addressing the failed war on drugs, we have been punishing people with substances use disorder and that only traumatizes them and makes it worse." continued Goodman.
So instead, officers will refer these individuals to treatment centers.
Representative Goodman also assures these laws do not really change policing as drastically as people might think.
"We have taken laws that were already in practice and in place by many police agencies and departments. All we did is we basically codified or reaffirmed existing training and practice which is to use force as last actions and deescalate. We really haven't changed too much on the ground. All we've done is just taken what's being on the ground and put it into actual state law." said Goodman.
Marco Monteblanco also stated "It's unfortunate that some in law enforcement are misinterpreting these laws, disregarding what we believe is clear legislative intent and are using these changes to politicize their implementation. This is a time for leadership and for those of us in law enforcement to get this right. Proper implementation of these bills is too important to do otherwise."
Read WAFOP's full statement here. Read WASPC's full statement by clicking here. The Attorney General's press release is also here.
Source: NBC Right Now