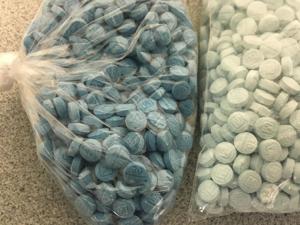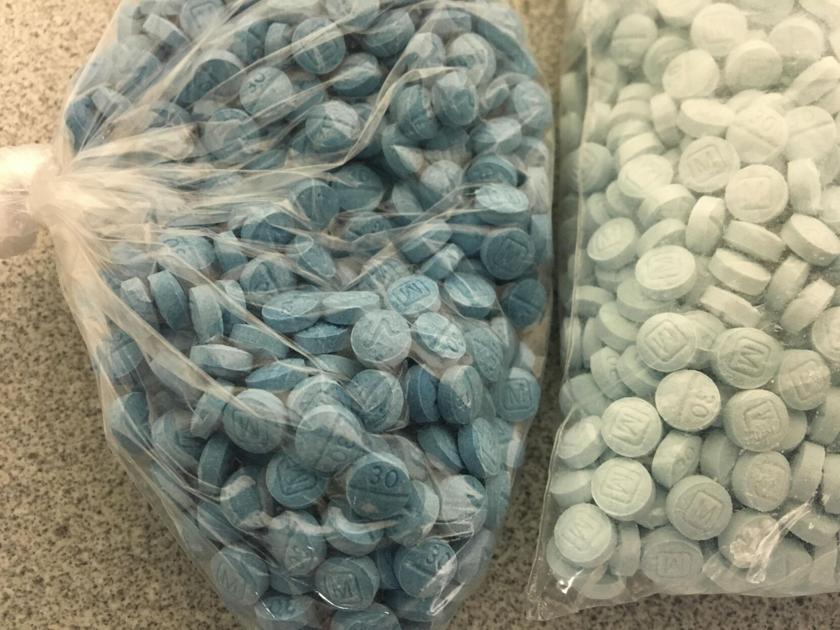 WA– Overdose deaths reached a record high across many counties in Washington state last year – many of which can be attributed to fentanyl. While the deaths in Franklin and Yakima Counties have decreased slightly from last year, law enforcement says fentanyl continues to be a problem.
Fentanyl is a drug most commonly found in pill form but it can also be taken as a powder or liquid. Fentanyl comes in from Mexico as an unregulated substance so people never really know how much fentanyl they are really taking.
Franklin County Coroner Curtis Mcgary said knowing how much fentanyl is in a pill is like baking chocolate chip cookies.
"One chocolate chip cookie might have three or four chocolate chips in it and the next one has one in it there's no set standard way of knowing how many chocolate chips are going to get into one cookie," Mcgary said.
This year Franklin County had eight fentanyl deaths and last year they had 10. However, the year isn't over yet.
Yakima County had 28 fentanyl deaths so far this year and 34 deaths last year. Public Information Officer for the Yakima County Sheriff's Office Casey Schilperoort said overdose calls tend to increase during the holidays, so that number could still increase.
"People should not be buying those little blue pills, they should not be using them," Schilperoort said. "I know people who are addicted to drugs like them since they're easy to find and they're not very expensive and they do give you a really good high, however, four out of 10 of those little pills will kill you."
In Ellensburg, fentanyl deaths are still on the rise, this year alone they've had six fentanyl deaths and eight in total throughout Kittitas County.
Inspector Chris Whitsett with the Kittitas County Sheriff's Office says these numbers don't tell the full story, he suspects many overdose deaths go unreported.
If you live with someone you suspect is at risk of overdosing from fentanyl or another opioid, it could be helpful to have Narcan in your home.
If your loved one overdoses, spraying it in their nose will counteract the effects of the opioid.
If you or a loved one need resources for drug addiction you can find them on the list below.
Addiction Services
AA Central Washington, Main Office: 616 River Road Yakima, WA 98902 – (509) 453-7680, English/Spanish Language: (509) 454-0295, Narcotics Anonymous: (877) 664- 0398

Apple Valley Counseling Service, 611 W A Street Yakima, WA 98902, (509) 452-1000
Balance Social Services (Spanish Speaking) 1400 Summitview Avenue, Suite 106 Yakima, WA 98902, (509) 423-1702
Barth Clinic, 201 E Lincoln Avenue, Suite 100 Yakima, WA 98901, (509) 457-5653
Comprehensive Healthcare, 505 S 4th Avenue Yakima, WA 98902, (509) 248-1200
Merit Resources Services, 315 N 2nd Street Yakima, WA 98901, (509) 469-9366
Sundown M Ranch, 2280 SR 821 Selah, WA 98942, (509) 457-0990
Triumph Treatment Service, 120 S 3rd Street Yakima, WA 98901, (509) 248-1800
VA Vet Center, 2119 W Lincoln Avenue Yakima, WA 98901, (509) 457-2736
Yakama Nation Behavioral Health, 20 Gunnyon Road Toppenish, WA 98948, (509) 865-5121
Dependency Health Services, 4100 Summitview Avenue Yakima, WA 98908, (509) 248-1200
Comprehensive Healthcare-Crisis Triage Center Detox, 505 S 4th Ave Yakima, WA 98902, (509) 453-2900
Riel House (Triumph Treatment Center), 120 S 3rd St Yakima, WA 98901, (509) 575-4810
Yakama Nation Comprehensive Alcohol Program, (509) 865-5121
Dependency Health Services, 1319 Saul Road South Sunnyside, WA 98944, (509) 837-2089
James Oldham Treatment Center, 201 Highland Drive Buena, WA 98921, (509) 865-6705
Merit Resources, 702 Franklin Avenue Sunnyside, WA 98944, (509) 837-7700
Treatment Detox CMH, Kittitas County, (509) 925-9861
Substance Use Disorder Merit, Kittitas County, (509) 925-9821
Recovery Advocate Dr. David Douglas, Kittitas County, (509) 306-9910
24-hour crisis line: (509) 925-4168
Source: NBC Right Now