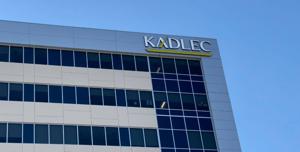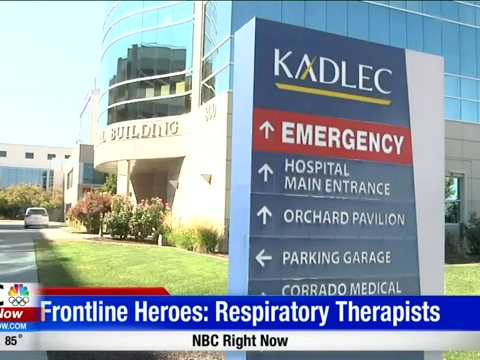 RICHLAND, WA-
Respiratory Therapists are integral to helping patients with COVID-19 in hospitals. They help patients with everything breathing-related.
Andrea Gilbo says she loves her job as an RRT, and she's been at it for 14 years, 12 at Kadlec.
"Every day you hope when you come in they're going to be doing better," said Gilbo.
During the pandemic, they've been getting busier. Kadlec has six respiratory therapists working during the day shift.
"We deal with ventilators we run the breathing treatments, we run the bypass, we do the blood work," said Gilbo. "We have to cover the ICU, neonatal ICU, the ER, in addition to all the acute care floors."
Any free time they have goes right into helping people in the ICU.
Her manager, Michelle Twomey-Santago, is a registered nurse. She says it's normal for frontline management to help out but the last month has been a blur for her.
"This last week I was here on a 12-hour night shift. Just filling in to help because we had our core staff but because our numbers and census is so high we just need that added support to help care for those patients," said Twomey-Santiago.
"We all want to work as much as we can to help as many people as we can," said Gilbo.
Respiratory therapists are there every step of the way for COVID patients. From the initial difficulty breathing to milestones of recovery, and sometimes, their last moments.
"I've known them from the acute care floors. I know their story, I've talked to them, I know their families, I've talked to their families, and so to see them getting worse is pretty miserable for us too," said Gilbo.
Everyone hopes for the best. But when that doesn't happen, it takes a toll– because we're all only human.
"The focus for us as managers is not only for our patients and the outcomes but for our staff and to support our staff right now because they're going through a lot caring for these patients," said Twomey-Santiago.
It's important that these frontline heroes take time for themselves and stay healthy so they can continue helping others.
"The camaraderie, the teamwork, it's wonderful. That's what keeps a lot of us here in this organization and in our departments is that we support each other," said Twomey-Santiago.
Finally, Michelle says vaccination is the way to keep people out of the ICU. She says if you have questions about the vaccine, ask your healthcare provider.
"If you're choosing not to be vaccinated please wear your mask and practice social distancing because that will help us as well," said Twomey-Santiago.
Source: NBC Right Now