SR 397 —
UPDATE: 9 p.m.
Washington State Patrol has updated that a 52-year-old driver has died following the collision on the Cable Bridge around 3:40 p.m. on October 20. Brian Tackett was around the Kennewick city limits when WSP believes he may have experienced a medical emergency when he hit the Jersey Barrier.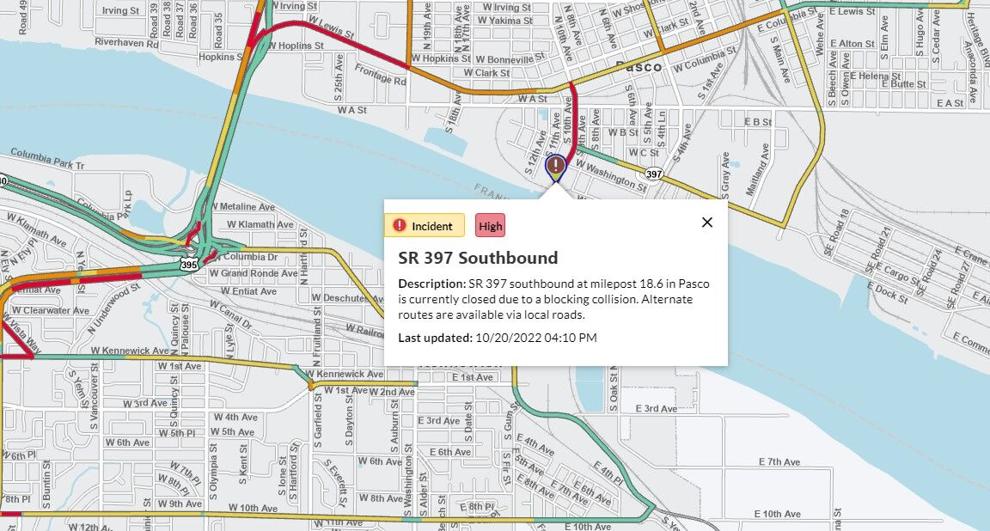 Tackett was taken to Kadlec Regional Medical Center, where he died. His family has been notified as of 10:37 p.m., according to Anita Urlacher with WSP. No other vehicles were involved.
The official cause is still under investigation.
DISCLAIMER: An initial press release from Washington State Patrol erroneously reported that the man's next of kin had been notified of his death. An updated press release corrected this statement, so NBC Right Now redacted his name from coverage. When WSP updated that his family had been notified, his name was included again.
UPDATE: 5:53 p.m.
WSP reports SR 397 is back to normal. It is currently believed that the collision was caused by a driver experiencing a medical emergency.
UPDATE: 4:52 p.m.
SR 397 is down to one lane, according to Trooper Chris Thorson with the Washington State Patrol.
OCTOBER 20, 2022 4:28 p.m.
State Route 397 is closed around Milepost 18.6 due to a collision that blocked traffic, according to WSDOT. Law enforcement is on scene and not much is known at this time. Alternate routes are available.
This is a developing story, which means information could change. We are working to report timely and accurate information as we get it.
Source: Google News