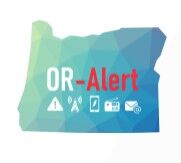 OREGON- Governor Kate Brown has opened an emergency alert system, OR-Alert, for Oregonians to help prepare for natural disasters.
The system has been implemented in all state counties as of today to help reach everyone in case of ice storms, drought, fires or record-breaking weather.
OR-Alert lets people across the state sign in for custom alerts to the region they live in.
"Last year's historic fire season taught us that being prepared can truly be the difference between life and death," said Governor Brown.
Governor Brown also mentioned the increase in weather events means Oregonians need to be warned faster and allow more resources for families.
Anyone can receive emergency alerts through OR-Alert by signing up via text, web, or mobile app:
Text: Sign up for emergency alerts in your area by texting your zip code to 888777.
Website: Sign up for emergency alerts in your area by visiting www.oralert.gov.
Mobile App: Download the Everbridge Mobile App to receive emergency alerts wherever you are.
Source: NBC Right Now