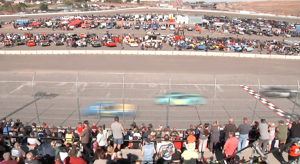 West Richland, WA – It's been 17 years since the last official racing event was held on Tri-city raceway until today.
"This track right now is in better shape than it was when it was absolutely brand new in 1968." said Ron Bennett, Announcer at Tri-City Raceway.
In West Richland Tri-city raceway project actually started about 100 days ago, and so in about 100 days they were able to finish this brand new race track.
"You pull in here today and it looks like a Winston Cup event, my jaw was on the ground when I first pulled in here." said Terry Bridges, Motor Sports Monday Podcast. "I knew it was going to be big, but I had no idea it was going to be this big."
So massive that the line to get in wrapped all the way down the street.
"There's probably 3-4 thousand people here today and we've got another 500 cars out here waiting to get in to this event." said Bennett.
The amount of people at the raceway is astonishing but and the feeling someone gets when they are racing "There is nothing about racing oval track stalk car racing, you cannot beat the sights sounds and the smell of racing here on an oval track." said Bennett.
Yakima Speedway did close down this year but Tri-city Raceway plans on speeding it's way up the charts for the best raceway in the Pacific North West.
Source: NBC Right Now