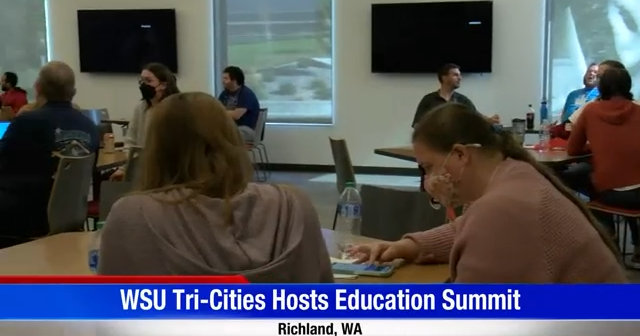 RICHLAND, Wash.-
Christ Reykdal, Washington State Superintendent of Public Instruction visits the WSU Tri-Cities Campus on Saturday to speak about the importance of education in the state.
The event provided local educators and administrators the opportunity to learn more about topics like STEM education, leadershop and Inclusion, Diversity Equity and Access (I.D.E.A).
The $15 event included a fill lunch for the six hour event.
Reykdal has led the Washington State Office of Superintendent of Public Instruction since 2017. He's centered his work on equity, supporting adn providing transparency to school districts.
Reykdal's presentation focused on bilingual education in the state.
"We have a great schedule planned for teachers, principals and others in education that is geared toward student success, innovative teaching strategies and generally, how to better reach students through educational techniques," said Judy Morrison, WSU Tri-Cities academic director of education.
Over 130 teachers from around the Tri-Cities and surrounding attended the event in hopes of inspiring and educating future generations.
Reykdal is a WSU Alumni himself and later went to earn a master's from the University of North Carolina-Chapel Hill.
Source: Google News